Reading
WHY READING IS IMPORTANT.
At Delce Academy we believe reading underpins success across all aspects of the curriculum. We don't just teach children to read, we create lifelong learners.
Through developing oracy and book talk alongside the basic skills of decoding, children's language acquisition effectively develops alongside their reading attainment. Through accessing carefully selected, rich texts that are both read and read aloud; our children have multiple exposures to vocabulary and second tier words.
Fluency, comprehension and pleasure are the core values in our approach to developing successful readers.
HOW WE TEACH READING
Reading is taught in tandem with phonics. After a phonics input children across Reception, Year 1 & Year 2 apply their phonics knowledge by using a fully matched decodable books.
Children have extra support where appropriate with a trained adult and reading volunteers. The focus is on 'keep up not catch up'
The focus in Reception & KS1 is on reading strategies of fluency, decoding and blending.
Books selected by the teacher show cumulative progress according to the sounds the child has been taught that half-term.
In reception, reading sessions start almost immediately. For children who are not decoding, blending remains a focus.
Children take home books matched to their ability from the same reading scheme used in class. Children are able to self - select books and can speak well about which books they choose and why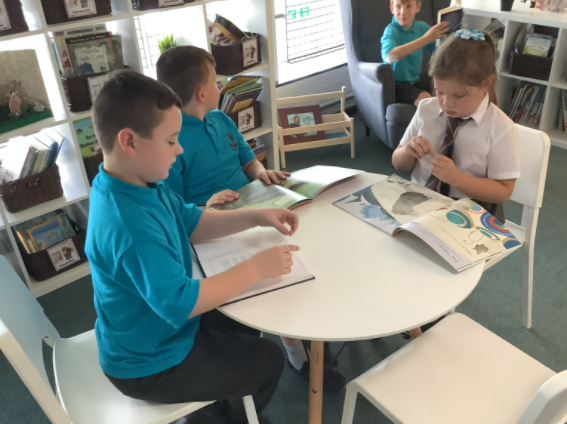 READING FOR PLEASURE AT DELCE ACADEMY
Every child at Delce Academy will have...·
Access to a global curriculum based on a core text approach, where topics are taught through high quality books with relatable themes and protagonists that excite and motivate them.
Dedicated time each day when an adult will read aloud to them from a carefully selected Reading Canon, aimed to build on their cultural capital.
Daily opportunities to read to an adult and other children in the classroom. These sessions are prioritised to the first lesson of the day.
Daily opportunities to engage in quality book talk.
An engaging, clearly labelled, tidy book corner in their classroom with a range of high-quality fiction and non-fiction texts.
An author focus box in their book corner – to develop a growing taste and preference for certain styles.
A DEAR (Drop Everything and Read) time every week to choose a book and read for pleasure.
Some children have opportunity to participate in a book club, based in our library spaces – time dedicated to enjoy books and engage in book talk.
A book shed available in their playground so that children can access books throughout their playtime
Participation in World Book Week dress up and enrichment events such as author visits and storytelling.
Some children have access to a trained reading volunteer.